Car Invoice System
Car Invoicer is a car billing software for car rental providers. You can generate instant invoices and monthly invoices. If you are a car rental provider then this the ultimate product for you. you can manage easily all of your customer data like GST No or VAT number and other information. The main part of the Car Invoice system is all of your data is stored in the online cloud server So there is no chance to lose your data. And not required to maintain the billing information old in the trad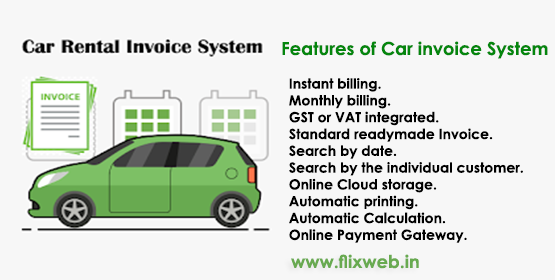 Installation Support
We offer the billing system two different ways yearly subscription and full software include source code.
If you are a rental provider then the yearly subscription is the best solution for you. We provide you free technical support. One Time Price of 5000 INR and yearly 2500 INR.
If you want to purchase the whole source code including the database then the price will come 15000 INR only.
Development Details
---
The Car Invoicer is built with PHP MVC structure and MySql database.
Payment
Paypal email: [email protected]
Visa/Net Banking: Instamojo
Contact
Email: [email protected]
Ph/WhatsApp: +91 8794047652
Features of Car invoice System
Instant billing.
Monthly billing.
GST or VAT integrated.
Standard readymade Invoice.
Search by date.
Search by the individual customer.
Online Cloud storage.
Automatic printing.
Automatic Calculation.
Online Payment Gateway.

DEMO


User Name: carroot
Password: ktpass@123_